On Offer – Art Jewelry Forum
6 min read
October 2022, Part 2
There are so many reasons to purchase art jewelry…
You got that hard-earned promotion—celebrate!
You're experiencing a once-in-a-lifetime occasion—honor it.
You wrapped up that major accomplishment—pay it tribute.
You want to mark the beginning of a new relationship or the end of one—commemorate it.
Perhaps it's an investment—do it!
It's the perfect piece to round out an aspect of your collection—pounce!
Or maybe it's as a treat for yourself—just because.
Art Jewelry Forum's international gallery supporters celebrate and exhibit art jewelry. Our monthly On Offer series allows this extensive network of international galleries to showcase extraordinary pieces personally selected to tempt and inspire you. Take a look. You're bound to find a fantastic piece you simply have to add to your collection! (Please contact the gallery directly for inquiries.)
Gallery: Gallery Viceversa
Contact: ilona Schwippel
Artist: Helen Friesacher
Retail price: 2,190 CHF
Geometry is at the heart of Helen Friesacher's work. Handling curves and angles of folding, she creates shortcuts in which our vision hits other modules, splitting the body of this material passed through the fire. With the successive vitrifications modifying the surface, the artist influences our perception, using the play of transparencies to open a world of colors to the horizons connecting past and future.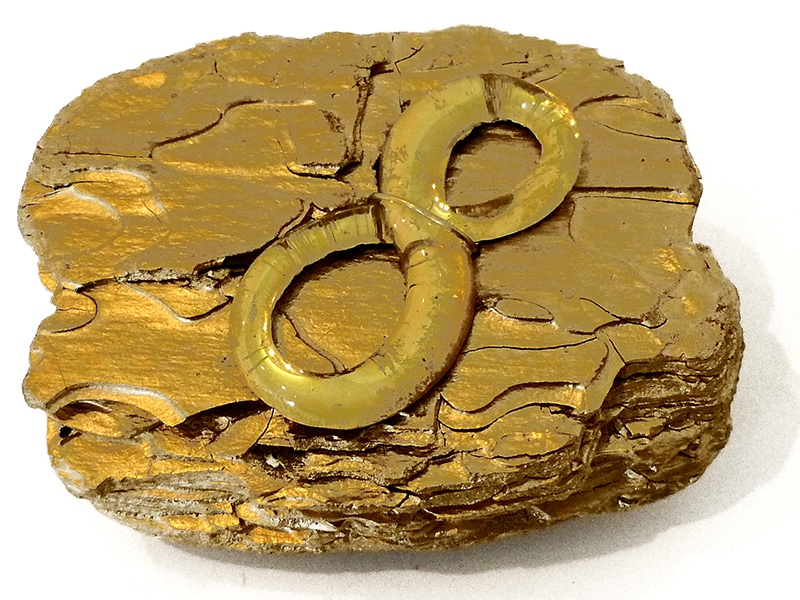 Gallery: Galerie Spektrum
Contact: Jürgen Eickhoff
Artist: Marianne Schliwinski
Retail price: €1,650
Marianne Schliwinski's brooch, Golden Eight, combines the symbol of eternity, the color of abundance, and the material of nature. These different symbols are brought together by the artist in a harmonic unity. In Schliwinski's work you always find elements that require a second look.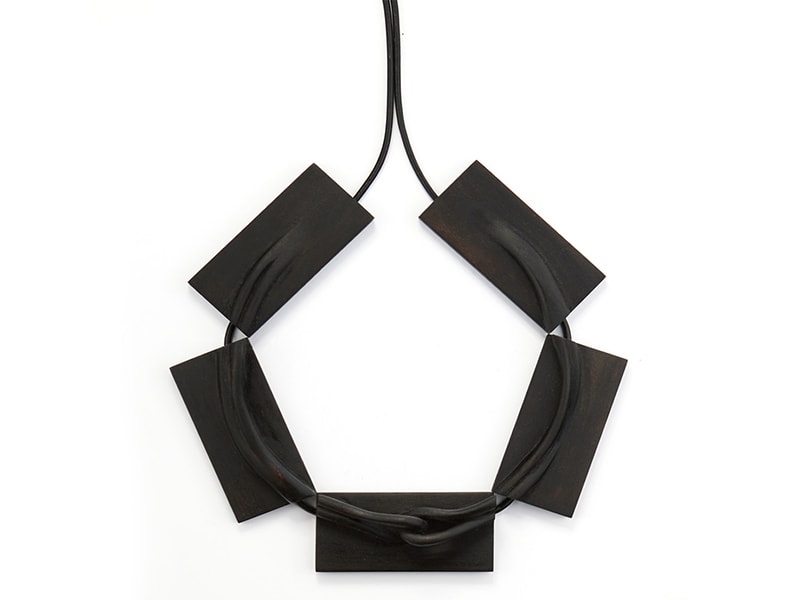 Gallery: Gallery Loupe
Contact: Patti Bleicher
Artist: Steven KP
Retail price: US$2,800
At first glance the elegant wooden jewelry by American artist Steven KP (he/they) appears to be just that. Yet these lyrical objects must also be read as metaphors for the queer lived experience. Although not readily apparent upon an initial viewing, their graceful, meticulously carved gestures denote a need among queer people to pass as conventional to be safe, just as the jewelry actually passes between spaces via flowing lines which, nonetheless, remain stationary—thus symbolizing stable queer relationships and dependencies—each self-reliant as it loops around and folds over onto itself.
Gallery: Four Gallery
Contact: Karin Roy Andersson
Artist: Jenny Edlund
Retail price: US$410
Jewelry art is a collaboration between the brain and the body. Ideas create nerve impulses that initiate a complex series of movements and they are affected by the qualities of the materials and tools. New signals are sent back, leaving their imprint and moving the process forward. To Jenny Edlund, art-jewelry-making is a way of processing impressions. Big questions and small problems are handled through her creative process.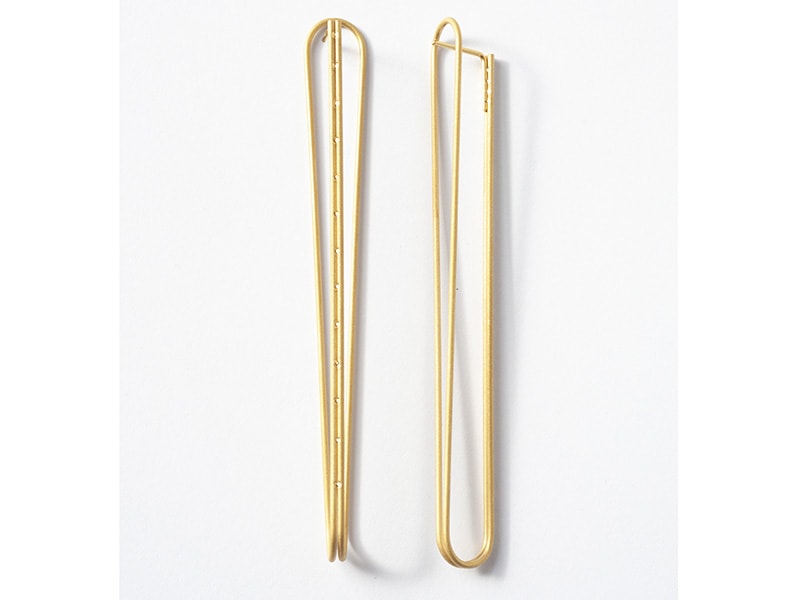 Gallery: Galeria Reverso
Contact: Paula Crespo
Artist: Esther Heite
Retail price: €180
These wonderful long earrings are light and easy to wear.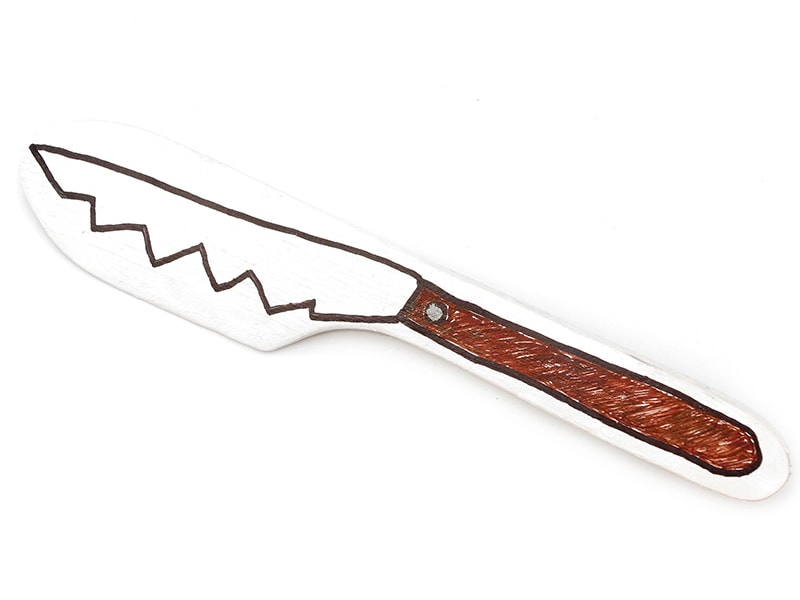 Gallery: Platina Stockholm
Contact: Sofia Björkman
Artist: Elin Flognman
Retail price: US$400
Elin Flognman's work is a tribute to everyday life and the things that surround us. What we may not have thought could be jewelry is exactly what she picks up and makes jewelry from. It can be a potato or a butter knife, for example. At ties, she puts together material in a way that turns beauty into ugliness or the other way around. The results are always unexpected and filled with humor. Elin Flognman is a Swedish jewelry artist. She received her MFA in jewelry art from HDK – School of Design and Crafts, in Gothenburg, in 2013.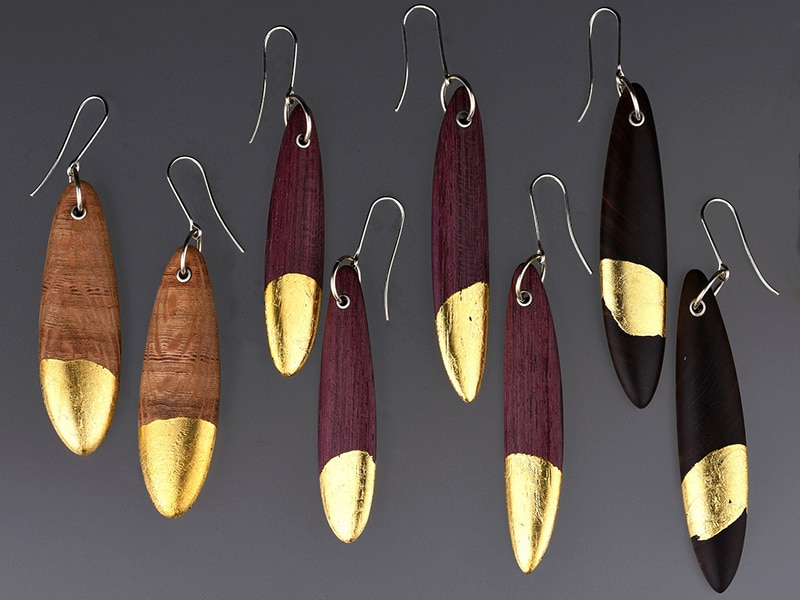 Gallery: Fingers Gallery
Contact: Lisa Higgins
Artist: Philippa Crane
Retail price: Each NZ$420
Philippa Crane is based on Waiheke Island, New Zealand. She works mainly with natural materials, honoring the land and highlighting the beauty that surrounds us. These strikingly beautiful pieces were made in memory of New Zealand's dying Kauri trees, which turn the forest floor yellow with their fallen leaves … aptly named "the tears of Tāne Mahuta." (Tāne Mahuta is the god of the forest.)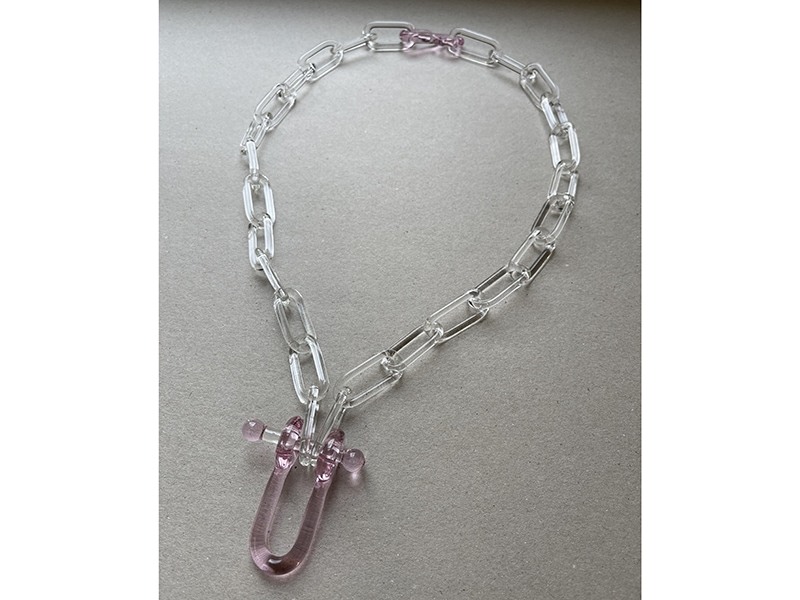 Gallery: Zu design
Contact: Jane Bowden
Artist: Danielle Rickaby
Retail price: AUS$550
d shackle, in baby pink, was made as part of a series of three lamp-worked borosilicate glass neckpieces by Danielle Rickaby. The piece is made entirely of glass, including the catch. This work was created for an exhibition of local South Australian makers currently showing at Zu design. The gallery invited makers to respond to the title Odds & Ends.
Gallery: Sculpture To Wear
Contact: Lisa M. Berman
Artist: Kathleen Lamberti
Retail price: US$495
Kathleen Lamberti is an accomplished, established Jeweler, who, like many of us, has traversed life's challenges and been able to navigate new ways of working, inventing new ways of using techniques and mediums to express her creativity in total authenticity. The brooch is in the starter piece category, the go-to object for a new art jewelry collector—and it will certainly remain a staple. This is an impactful selection with bold color as the focal point. It exudes a subtle textural cadence across most of the form and it explores shape using an unexpected edge. Lamberti's brooch navigates texture, color, and scale beautifully.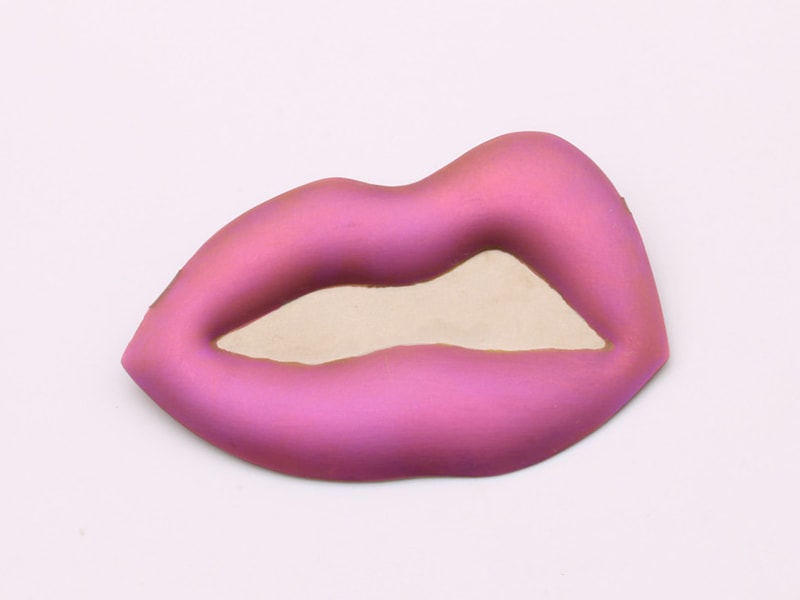 Gallery: Baltimore Jewelry Center
Contact: Shane Prada
Artist: Jennifer Moore
Retail price: US$175
This piece is part of a collection that speaks to the wearer about the nostalgia of county fairs and the innocence of youthful transgressions. Iridescent colors capture the delight of cheap drugstore nail polish, and they remind the wearer of hot summer nights out late watching rock concerts. Jennifer Moore completed her MFA in Jewelry + Metals at San Diego State University in 2021.
Gallery: Galerie Noel Guyomarc'h
Contact: Noel Guyomarc'h
Artist: Andrea Wagner
Retail price: CAN$255
Water is everywhere, essential to all forms of life. It soothes us through its soft splashes, and its sparkling waterways bring us peace and tranquility. Andrea Wagner's works are composed of crystals that are either cut in quartz or cast in transparent resin, and through which one can glimpse the photographed or drawn patterns of ripples and reflections on the surface of the water. The faceted crystals evoke the shimmer of the sea while bearing a multitude of translucent granules that are reminiscent of fine droplets. Wagner looks at the eternal nature of water, which can change its state infinitely—from solid to liquid to gas.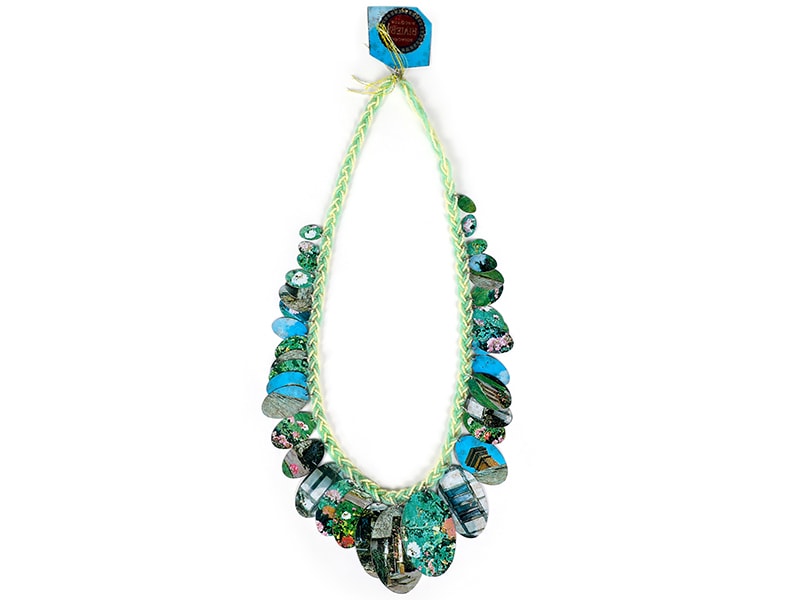 Gallery: Galeria Tereza Seabra
Contact: Tereza Seabra
Artist: Catarina Silva
Retail price: €920, plus shipping
"Love letters, an old photo, a rock with your beloved's name, a broken beaded necklace, a swimming pool … how many memories can be saved in an old cookie box! Memories of intimate relationships that are collected and that are recalled in melancholy days." —Catarina Silva, 2021