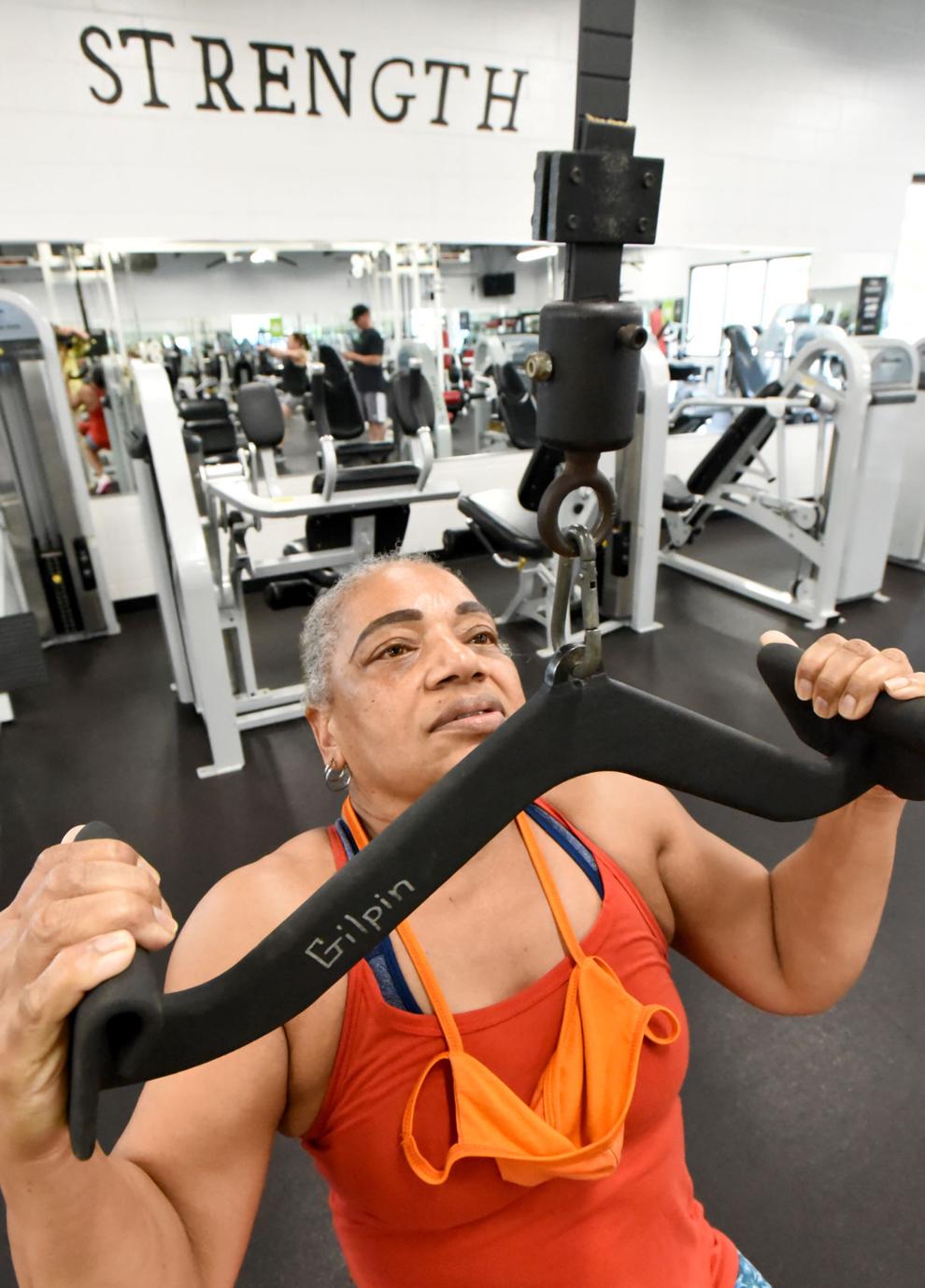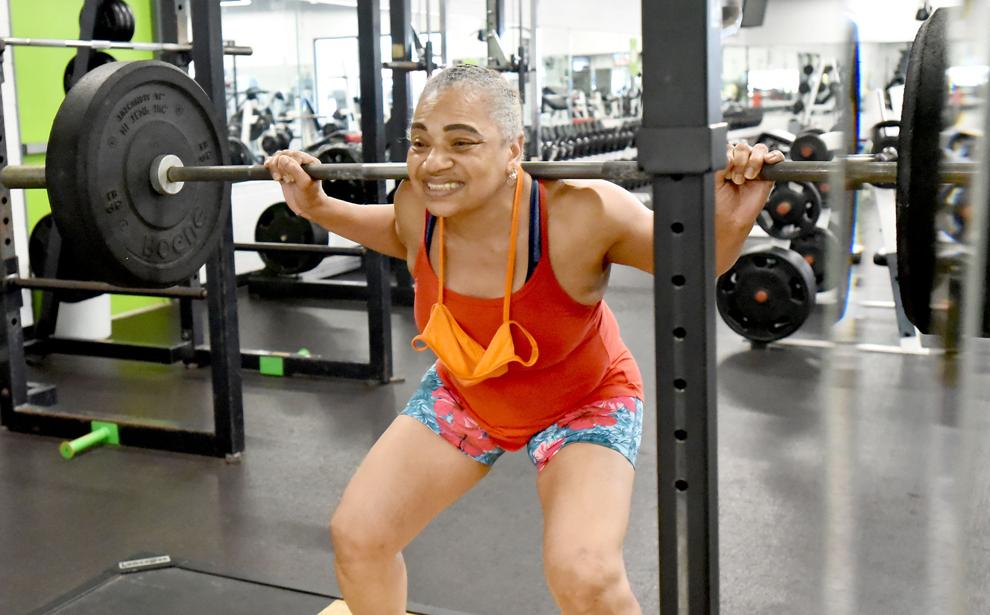 At 5-foot-1 and 162 pounds, Teresa "Dian' Covington doesn't necessarily look like someone you'd be afraid to mess with.
But beware.
The 61-year-old Urbana resident is a world record power lifter and champion body builder. She's the Tom Brady of women's power lifting.
"She's a lot stronger than she looks, I can tell you," said her trainer, John Buhs, owner of Urbana's Vision Fitness, where she works out.
Buhs said he is impressed with Covington's discpline and demeanor.
"She always has a smile on her face," Buhs said. "She's one of the last really good people. My kids love her. She's always willing to help someone out."
It's not easy to be so discplined. Covington gets up at 2 every morning to work out, then heads to her University of Illinois custodial job at 6 a.m. She also works out after afterward and adheres to a strict meal regimen.
"Except she whines a lot about donuts in the middle of her nutrition plans," Buhs said with a laugh.
"When can I have a donut?" she asks.
"About 12 weeks from now," Buhs will tell her.
She said she never wants to quit working out.
"I love it. I really do," Covington said. "People look at me crazy, … but it really keeps me going.
"Sometimes I'm a little sore, but after I get done working out, it revives me. I get that high when I work out."
Covington is modest about her accomplishments. But Buhs sings her praises. He said she has set two world records in power lifting and has a box full of medals and body building trophies.
Weightlifting and body building are two different competitions, and being good in one doesn't necessarily mean you'll be good in the other. But Buhs said Covington switches back and forth between the two with ease.
Body building is more like a pageant. Competitors are judged on body symmetry and body fat content.
Power lifting winners are determined by who can lift the most weight. Buhs said Covington holds bench press records in the 200s and dead lift records in the 300s in her age group.
"I have clients who are in their 20s, and they struggle to get through it, and she just powers through it," Buhs said.
Covington got into power lifting in her 30s when asked by a friend if she'd be interested. She said more of her focus now is on body building, which she started at 50.
Working out provides an energy boost. She is glad her family supports her.
Covington said while power lifting and body building are her only hobbies, she loves going to church and babysitting her five grandchildren and great-grandson.
They probably know not to mess with grandma though.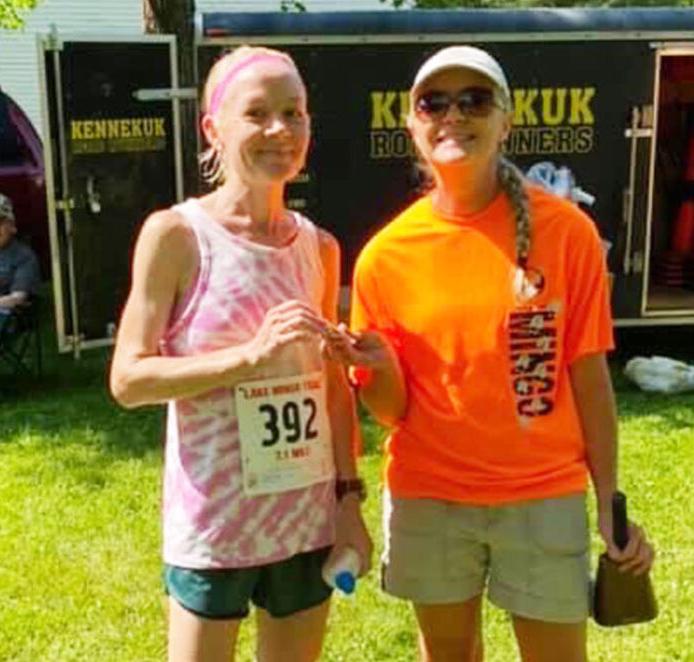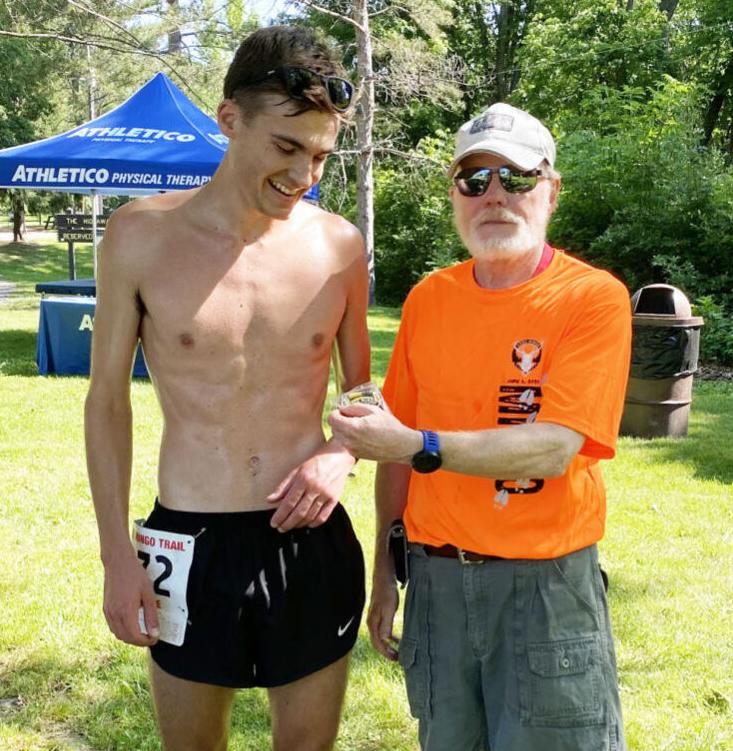 Road Runners hold Lake Mingo event
Keeping with our mini theme of getting fit, the Kennekuk Road Runners said there's nothing like covering some miles — lots of miles — to celebrate the new open atmosphere and get the endorphins flowing.
The club held its annual 7.1-mile Lake Mingo Trail Race last Saturday at Lake Mingo, north of Kickapoo State Recreation Area.
Springfield resident Patty Schaefer turned in the top women's time of 54:50.3. The men's winner was Ryan Hodge of Mahomet in 42:08.
More than 150 runners competed in four evenly numbered groups.
"It was the first race where we were able to have an after-party since COVID hit us," race director Dave Bechtold said, noting the club had been working with Kennekuk Park officials to get the trail ready.
The club, started in 1977, sponsors a number of events, the next one being the Dogs & Cats event July 10. It's a run rather than a race, and participants do laps on a 3.5-mile course.
The club invites the Vermilion County Animal Shelter to bring out dogs and cats for adoption.
An event held in March is called the Mountain Goat because the trail includes some significant hills. The Howl, an ultra-marathon to be held Aug. 13 and 14, is a popular event that draws runners from throughout the Midwest.
"We have people who run 40 and 50 miles in eight hours" in that event, Bechtold said.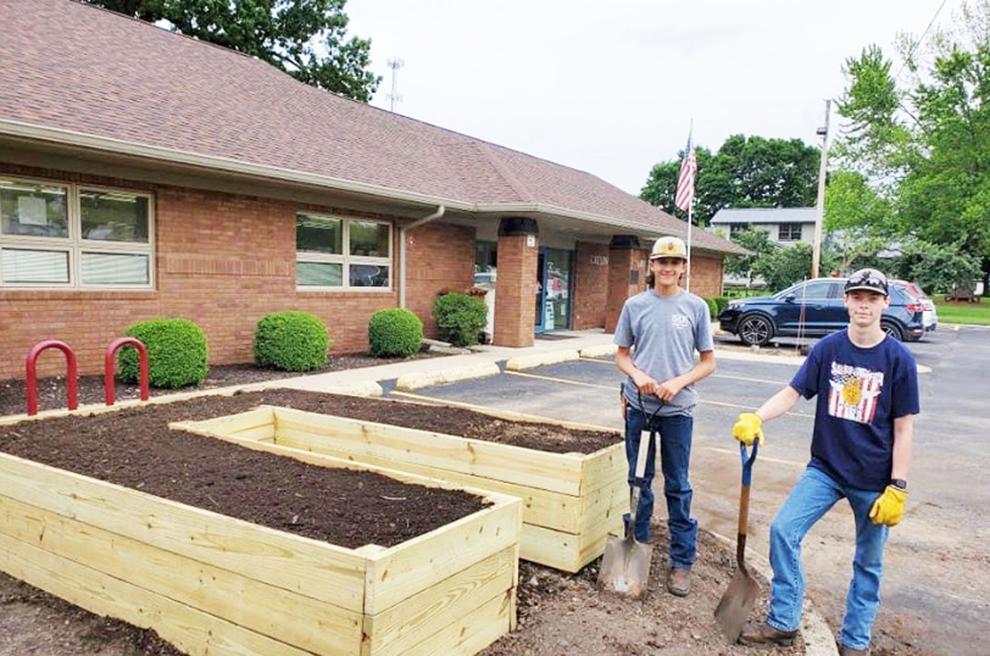 FFA chapter part of a growing experience
A Salt Fork High School FFA project at Catlin Public Library will benefit the whole community.
The chapter built a raised community garden at the library.
"Our chapter is always looking for ways to get involved with the community, Salt Fork FFA adviser Stacey Rickard said. "We were talking with the librarian, and we thought how cool it would be to provide students who might not come from a traditional farm background to see where food grows as well as allow residents to get fresh produce."
One class designed the layout of the garden, made a bill of sale and bought the materials, and members built it then filled it with soil and planted it.
Rickard said tomatoes, peppers and other veggies will be planted.
Anyone who wants to partake of the garden is welcome to. They are also welcome to donate to the library if they so desire.
The Salt Fork school district is made up of the former Catlin and Jamaica districts.
Rickard said about 17 FFA members worked on the garden.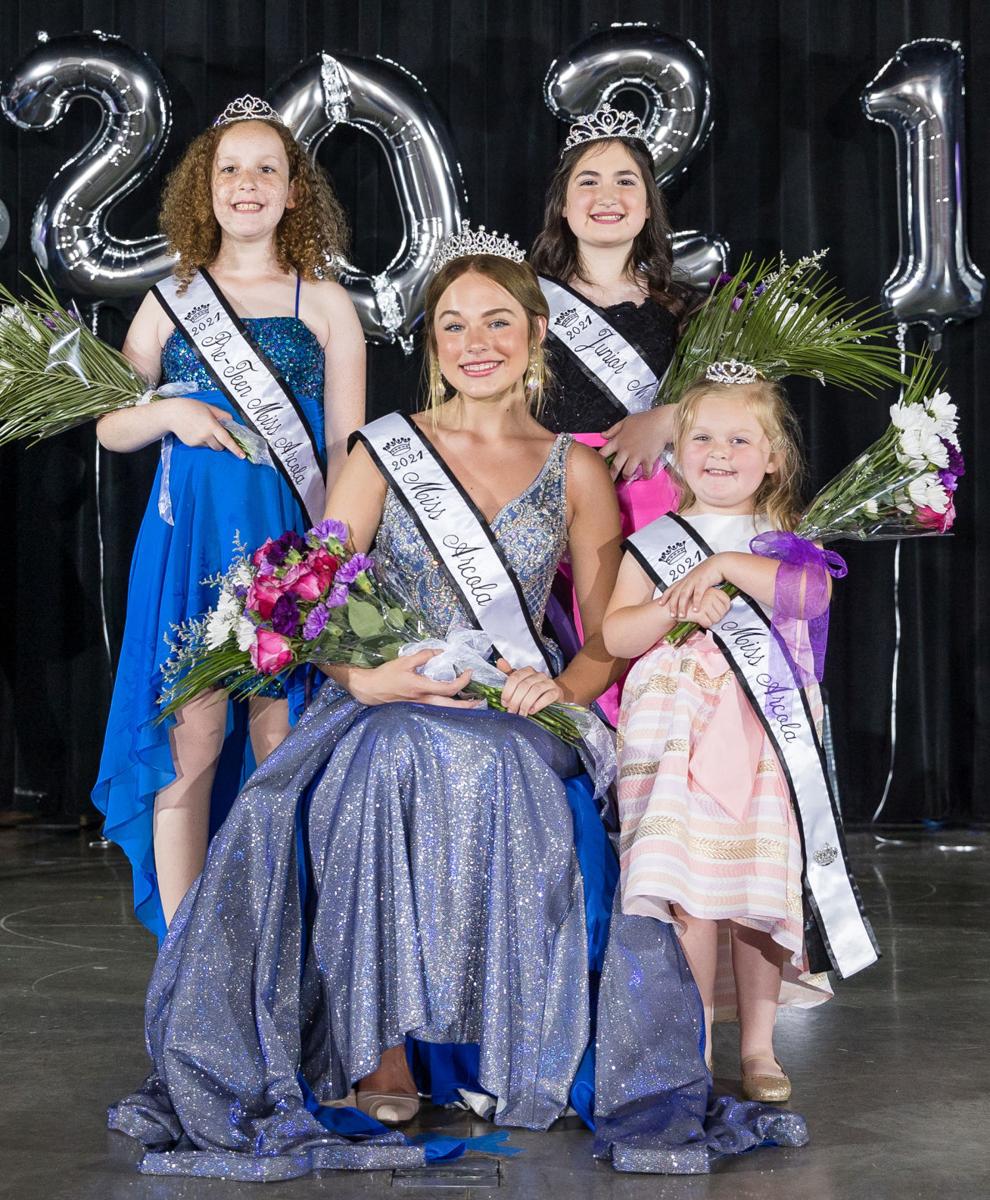 Arcola pageant winners crowned
Happy to be back at a public gathering again, royalty from no less than 10 area pageants were on hand to take in the Miss Arcola pageant at the junior/senior high school, according to pageant director Dawn Ard.
Fifteen contestants competed in four age groups.
"We had about eight practices prior to the pageant," Ard said. "There was a moment where we didn't know where we could have it" due to various locations already booked up. "At the last minute the school said, 'If you wait till school's out, you can use the gym.' That was a huge blessing."
Due to the lifting of COVID restrictions in the state, masks were not required.
Hadley Lester was named Miss Arcola, while Junior Miss is Zoey Chupp. Emma Juarez wears the Pre-teen crown, and Little Miss Arcola is Madison Ingram.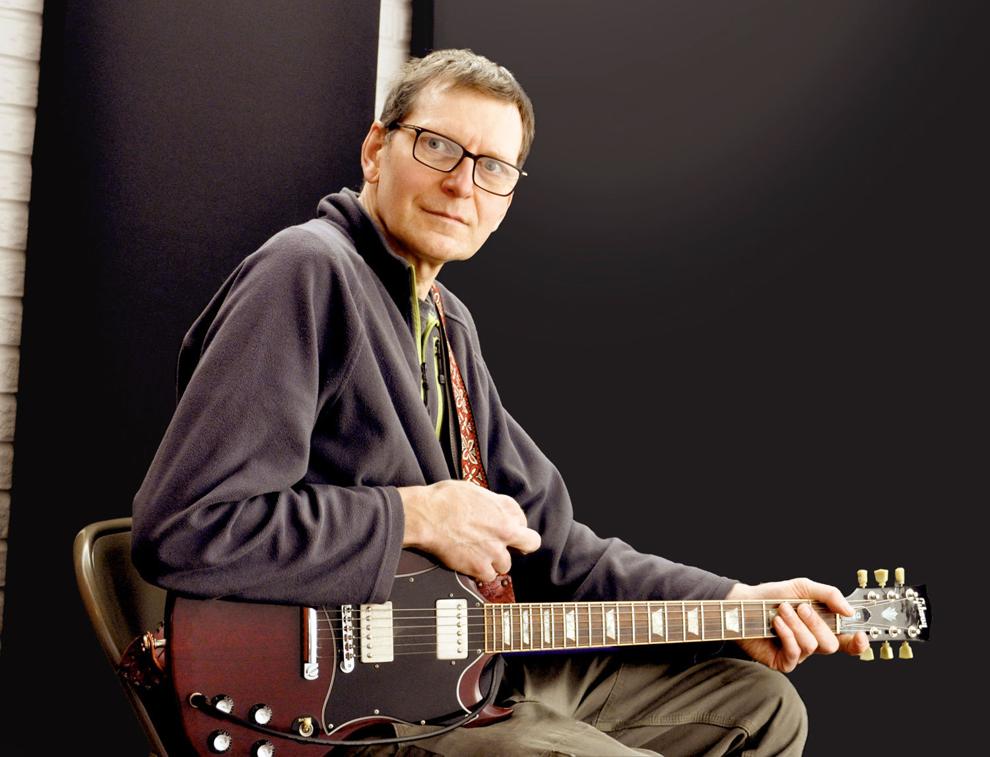 Lanterna releases seventh album
During the last 30 years, guitarist Henry Frayne has maintained a notebook and a series of cassette tapes filled with song ideas. Six albums later, Frayne, performing as Lanterna, has shown those ideas the light of day on the seventh album, "Hidden Drives."
The album is available on Badman Recording Co. The songs on "Hidden Drives" come from ideas that might have needed a decade or so to come together.
Frayne said "Maine 262" (referring to song idea 262) needed a final section, which came about with Frayne accidentally striking an open Low E string while trying a new chord pattern. And the acoustic guitar-driven "Chagrin Boulevard" was only a fragment at the end of a cassette tape for many years. Frayne relied on his memory for the rest of the song.
Lanterna is a mostly instrumental side project begun 30 years ago. Frayne has played in a number of Champaign bands, including Lodestone Destiny, The Syndicate, Ack-Ack, Area and The Moon Seven times. He said experiences from every one of the previous Lanterna albums influenced the newest creation.
For five of the songs on "Hidden Drives," Frayne asked Mike Brosco to "have some fun" and manipulate the tracks to create five additional remixes to bring the album to a total of 15 tracks.
"This gives one a chance to enjoy those instrumental parts that might otherwise go unnoticed on the more upbeat songs," Frayne said. "As a listener, I wish more bands would do this."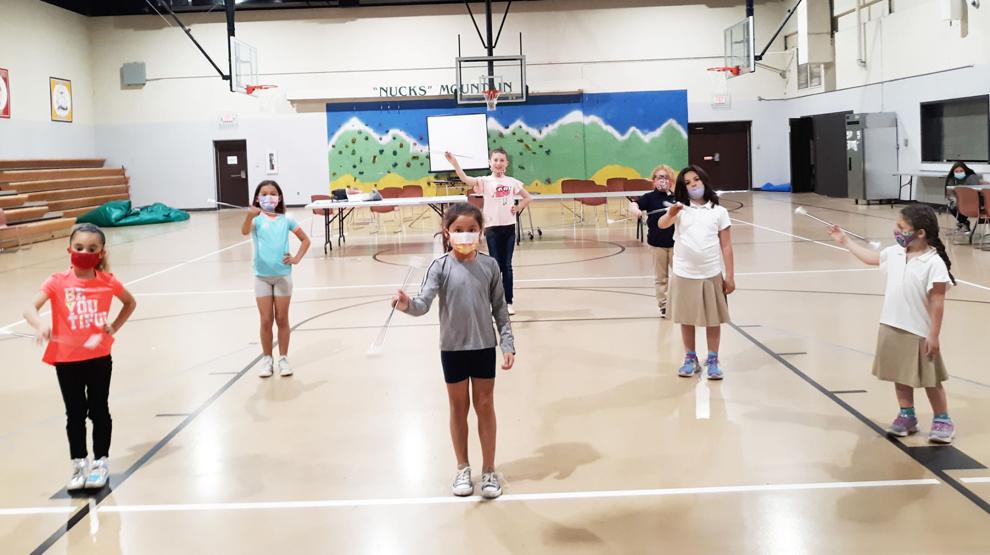 Twirling at an event near you
A newly started baton-twirling group based in Rantoul will appear in several events this summer.
Sponsored by the Rantoul Recreation Department, the beginning baton-twirling group called "Shine" features girls ages 5-12.
The group, led by Marcia Weller, has been practicing since April at the Rantoul Youth Center. Its first performance is set for 1 p.m. today at the God & Country Freedom Rally in Rantoul's Wabash Park.
Shine will also perform at the Rantoul Juneteenth Celebration at 1:30 p.m. June 19, also at the park. The group's final performance will be in the Rantoul Fourth of July parade July 3.
Weller, of Rantoul, has a background in baton twirling that started in her early years. She started twirling at age 5 with a drum and bugle corps called The Ambassadors that took first place in an Ohio competition and second place in nationals.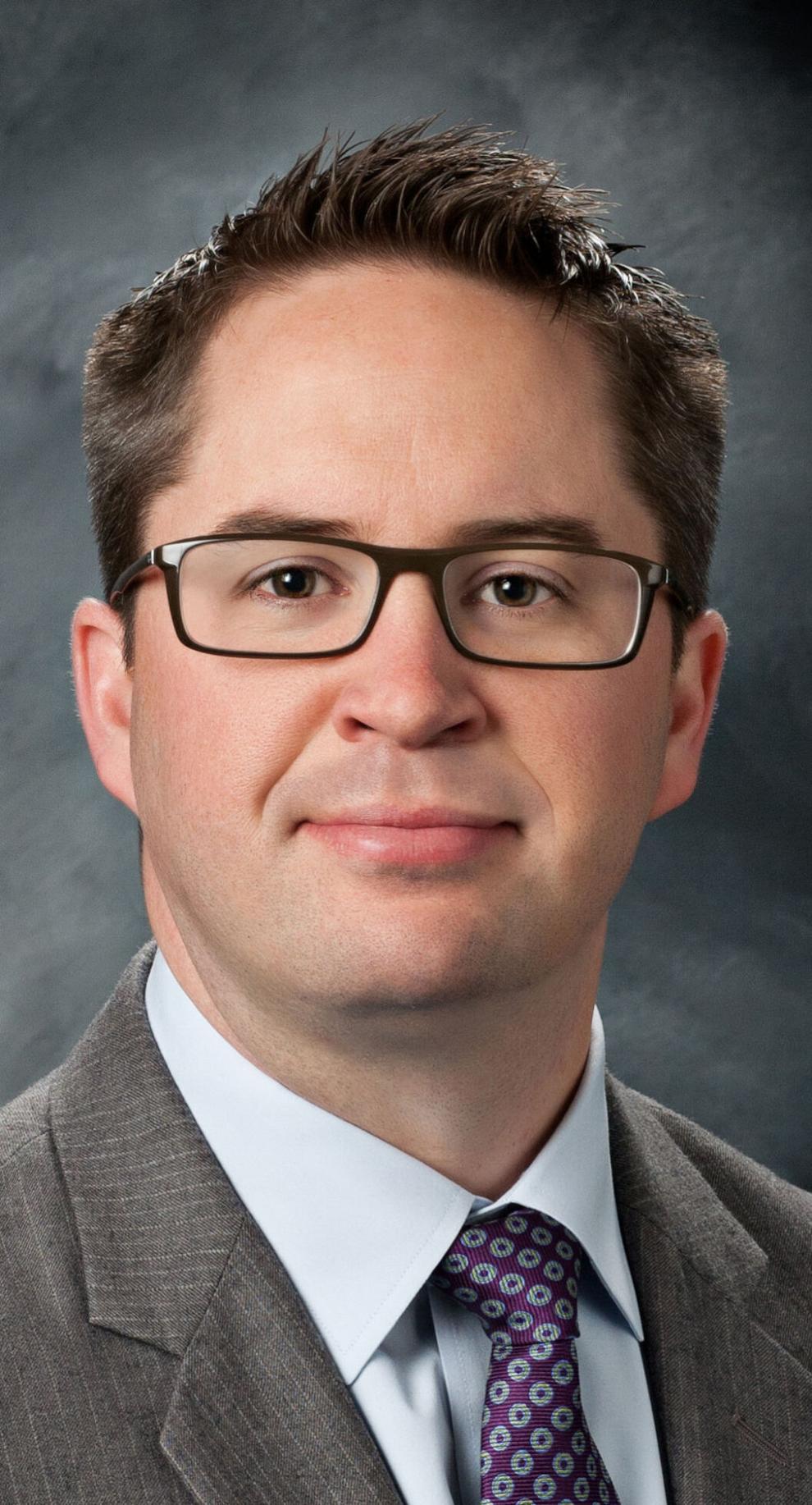 Wilson named senior vice president
Mitch Wilson has been named senior vice president, mortgage sales manager for Hickory Point Bank.
Wilson will lead and develop the bank's mortgage lending teams in its locations in Champaign, Decatur, Springfield and Peoria.
"Mitch exemplifies Hickory Point Bank's dedication to client relationships and is a natural fit to lead the bank's teams of mortgage lenders," said Dan Marker, president, Champaign region.
Spangler earns Illinois Agri-Women scholarship
Hannah Spangler of Avon, who will be a senior this fall at the University of Illinois, where she is studying agricultural education, is this year's recipient of the $1,500 Illinois Agri-Women Helen Henert Agriculture Education Scholarship.
Spangler has been active in 4-H and FFA in previous years and credits her passion for agriculture for leading her to choose a career as an agricultural educator.
Women Changing the Face of Agriculture is a project of the Illinois Agri-Women. The annual conference, to be hosted at Carl Sandburg College in Galesburg, has been moved to 2022. However, the organization is using an online curriculum this year.
IAW supports the ag industry, works for legislation to support and preserve family farms, communicates with other ag organizations and strives to educate the public and promote ag awareness.