Jhoanna Marissa's Go-To Products for Melasma-Prone Skin
8 min read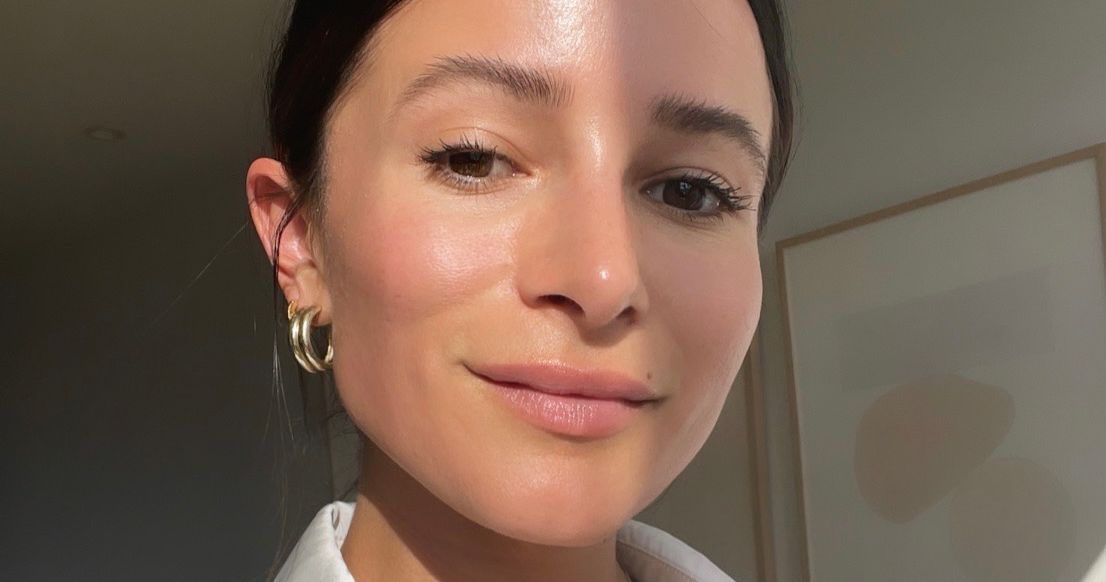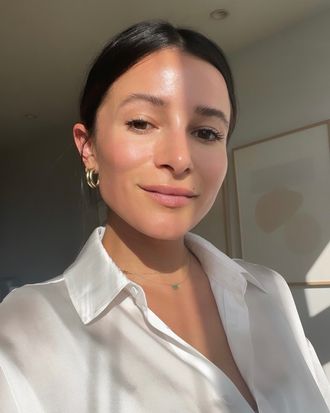 Photo: Courtesy of Jhoanna Marissa
Jhoanna Marissa currently works as a web designer; she's the founder of Willa Creative Agency, which conceptualizes branding, e-commerce, and design projects for brands like Donni, Cult Gaia, and Brightland. But if you look at a photo of her long enough, you might recognize her from her roles in soaps, shows, and movies like The Young and Restless, Greek, and Gotta Kick It Up.
Marissa realized acting would be an "ongoing hobby" and not a career when she was 15. "I mostly stopped acting after Gotta Kick It Up because of my insecurities with my skin and my body," she says. "It's funny, America Ferrera and Camille Guaty, who were in the movie too, recently posted about it because it's almost the 20th anniversary, and I saw the side of my face, and I had acne — I was just dealing with it so much."
Doctors offered her harsh solutions like Proactiv and Accutane, but when her mom came across research correlating gut health to the skin, they realized there might be a gentler approach. Recalibrating her gut microbiome wasn't easy. She says, "I grew up in a Mexican household, and the food that was in our kitchen, I mean, we had everything. I love Daisy sour cream, and I used to eat it with Doritos — that was my snack."
Her go-to products have, of course, changed over the years, but her focus on diet and digestion has remained been at the forefront — and her skin isn't afraid to remind her of their importance when she veers off track. "I got into my first intense job in my 20s, and we were drinking tons of coffee, not eating too much food, working 12-hour days, and all of that stuff built up. I had to go back to the basics."
Marissa's main struggle is melasma, which she first learned about through her mom and grandmother's struggles with the condition. Now that she's forced to deal with it herself, she's particularly diligent about sun care and beauty treatments. "I do Clear and Brilliant laser treatments because my dermatologist was immediately like, 'This is the only laser that I feel comfortable using on you because it's a lighter laser.' Other, more intense lasers can trigger my melasma because of my skin tone — like other Latinx women, I'm prone to hyperpigmentation."
She also gets Botox on her forehead and eyes to minimize the appearance of wrinkles. "My dad's eyelids mostly cover his eyes, and for me, a brow lift helped with that. Before, it was hard to use something like eyeliner. It's usually really light, and I can still move my face. That's all I've done from an injectable standpoint."
Below, Marissa shares her go-to products, including the probiotic she tells all of her friends about, the sunscreen that gives her a dewy look, and the expensive eye cream she swears is worth every penny.
"The Seed probiotics are always on my desk. They're so good — the best I've ever taken, and I've tried so many. I don't think that I have the best natural microbiome unless I'm eating really well. I learned about how long our colon is and how much food can get backed up, and let's be honest, we're not all angels — I love french fries — so the probiotic is a little extra nudge. When I take it consistently, it helps my digestion, and it really does make my skin better.
It's one of those products where once you try it, you're telling people about it, and I kept hearing about it from friends. Then my company moved into our current office building and Ara [Katz], the Seed founder, has an office here, too. I love Sakara Life, I've done their program and it's great, but I took their probiotics, and I didn't feel the same way that I do on Seed's. I saw a difference within the first month with these. Not everyone can take it on an empty stomach because your stomach can get upset, but I feel the best when I take it like that."
"Geri Hirsch, the creative director of Saie Beauty, she's a friend of mine, and I cannot take credit for this ice roller because I think she blew it up. I always joke, 'You should make your own ice roller' because I feel like she has really promoted that thing, done swipe-ups for it on Instagram, and everyone knows about it probably because of Geri. I love mine so much. I wake up really, really hot, and it feels so good to roll this on my face. I will say that one morning I really needed it, but it wasn't in the freezer so I fell back on my old ice trick, which is just rolling a cube of ice everywhere on my face."
"This is my morning cleanser because it's so light — I do a double (or even triple) cleanse at night, but I love this one in the morning. It has kind of a citrus smell, and it's such a lovely, quick cleanse. Their bottle lasts for a very long time — you just do one little pump. I've actually been using this cleanser since my company helped them launch around four years ago."
"This toner helps my makeup settle on my skin a lot more. I bring it on planes with me, and it sits at my desk. If my skin feels dry throughout the day, a few spritzes help reset my skin. It has a very fresh, kind of citrusy, light smell."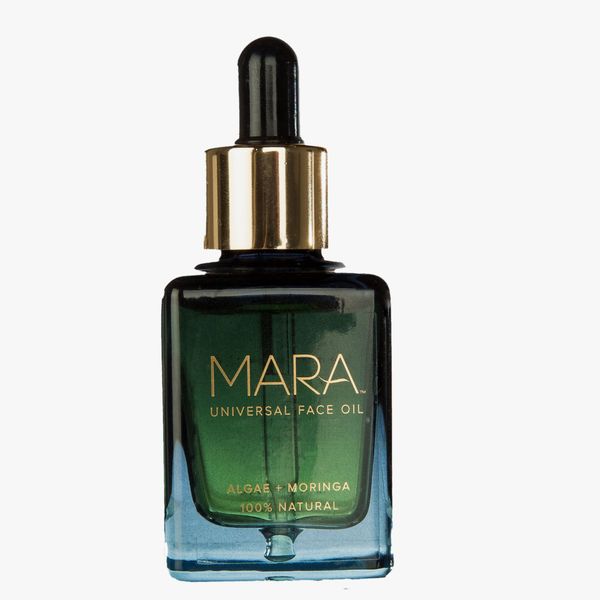 "I like that this face oil actually seeps into my skin. It mixes so well with everything — I mix it with my skin tint [below] and my sunblock [below]. I've tried other oils that don't soak in, they just sit on top of my skin regardless if I use a setting spray or not. I use a whole syringe of it because I carry it down to my neck and chest. The name says 'universal' oil, and they really mean it."
"Before this skin tint, I could never find a nice, tinted moisturizer with SPF that didn't make my skin freak out. But my friend works with Ilia, and she was like, 'Can I come over to your house so I can film you putting on this tint? It's for an indie brand I'm working with.' This was way before Ilia blew up. Now if you scroll through Instagram, you might get an ad of me putting on the skin tint — she shot it on my balcony, and the video has something like four million views. Luckily, I loved the product. It's all I use now. I always have it on my desk, and it does such a good job of keeping my skin moisturized — it has squalane in it. I use shade Paloma ST9.
Some people say it really smells. If you look at the reviews, it reminds me of the cilantro debate whether it either tastes like soap for you or you love cilantro — I love cilantro. Half of the products reviews are people saying it smells bad because it's so natural. It doesn't bother me that much, but it's apparently not very pleasant."
"This was recommended by a dermatologist, and it's dewy enough, but it's not overly greasy. If I reapply it, it doesn't feel gross. There have been some sunscreens that I've tried that are really zinc-based and you can't even put it on your face without getting a white cast, or where all of a sudden I'm oily on certain parts of my face throughout the day. With this sunscreen, my face really stays balanced."
"I like this product because it's less intense than my prescription retinol, and I can use it on a more frequent basis — if I use my prescription two days during the week, my skin will feel a little dry or maybe a little irritated and start flaking. I use Shani's three or four times a week. I actually heard about it through my friend Nikki Lee, who owns Nine Zero One salon in Los Angeles — she's one of Shani Darden's clients. She got a bottle for me, and I never had the retinol uglies with it."
"I actually heard about these pads from Shani Darden, before I was even using her Retinol Reform [above]. She would talk about them on Instagram, and she has a highlight about hyperpigmentation, and that's one of the products she recommended. I was so scarred from using astringent products before, but these really changed the texture of my skin. It's smoother and cleaner-looking."
"Moisturizers are the products I struggle with the most because they feel almost the same to me. I just want something easy, and I like this one because it's really moisturizing and it's a good price for the quality — I don't want to spend hundreds on moisturizers; I'd rather invest money into highly concentrated oils and stuff with good actives. With this one, I just don't wake up dry the next day."
"I've been using this eye cream because I'm working with the brand. You have to try it! It feels like a balm, and I can put makeup on top of it. My eyes look brighter with it. I will look in the mirror, and I'm just like, 'Oh!' because it looks there could even be highlighter on my eyes. I mean, no one likes dry eyes, and I think it really, actually does the job of what an eye cream should do. I've always struggled with eye creams because they're so expensive, and it's like, 'Can't I just use what I put on my face on my eyes?' But this one is really worth every dollar."
"When I'm not sleeping well, I look tired, and my skin feels dehydrated regardless of drinking water. I don't think I valued my sleep a lot in my twenties, and my skin was definitely not as good as it could have been. My mind races the most at the end of the day — I'm actually my most productive at night; I could stay up to 1 a.m., and I used to do that all the time, but I began realizing how much it was affecting my digestion. My skin was just feeling dull, too so I really started looking into how to set better nighttime routine. I used to take the CALM Magnesium Supplement, and then somebody brought Moon Juice's Magnesi-Om over to my place. They were staying over for the weekend, and I tried it, and loved it. It has a nice, berry flavor. I'll make it with hot water, but I like that I can also drink it cold if I don't like having tea. You sleep really well on it."